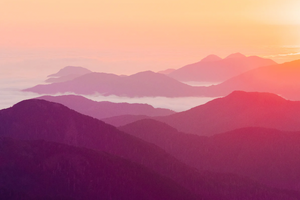 Artist print on Stretched Canvas - reclaimed cedar frames.
CIRCA 1983 is the photography of Owen Perry, a visual designer and photographer based out of Tofino. Specializing in landscape, travel and adventure, Owen's work borrows inspiration from the nostalgic qualities of film as well as Canadian cultural narratives owed to the Group of Seven, National Film Board of Canada (NFB), Canadian Broadcasting Corporation (CBC), and National Geographic.

Although firmly rooted in the digital photography world, Owen treats post production and editing much like a film photographer might use chemicals in a dark room; treatment of light and colour is as important as initial capture itself, granting fuller expression over the intended story or feeling of a photograph.
Have you noticed this at any of our favourite resorts in town?